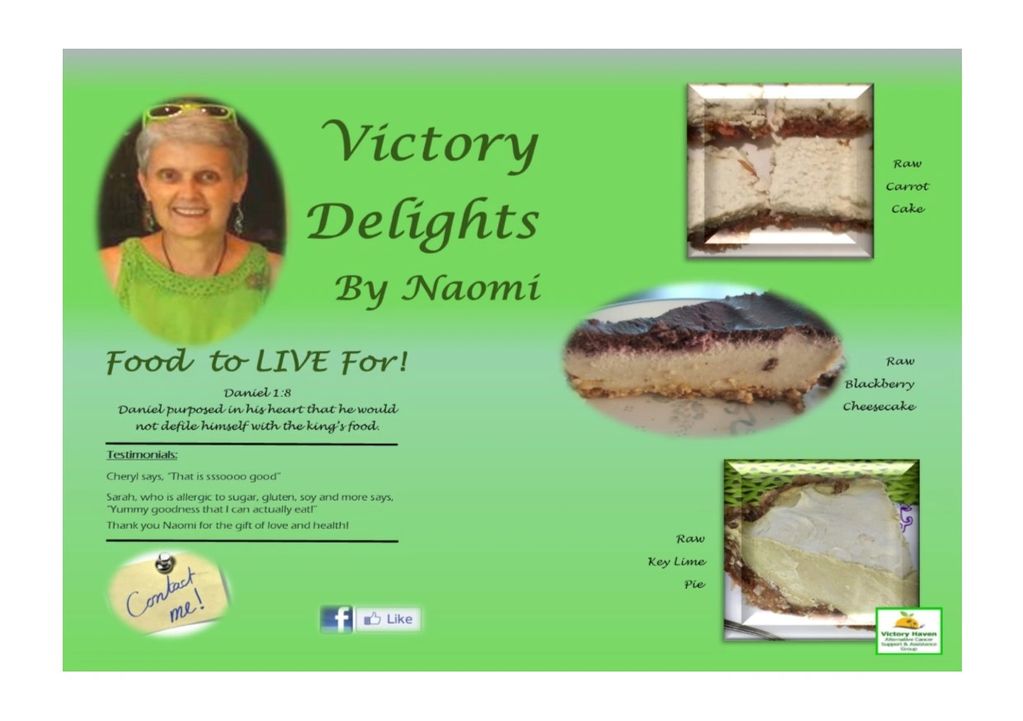 Victory Delights by Naomi is an extension of Victory Haven
Raw Tarts, Pies & Cakes
Freshly Made from Whole Organic Veggies, Nuts & Fruit
NO Brick & Mortar Location
 Available only in the Blue Ridge GA mountain area.
NO SHIPPING anywhere will be done
Mealtime Helpers
Opening A World of Possibilities
Raw Organic Coconut Water from Thailand
Mealtime Helpers we use and highly recommend
Smoothies & More Ready to Eat!
SMOOTHIES – Just add your smoothie base, blend & enjoy!
Great for traveling, as well as busy schedules!
Whole Food Nutrient Dense Smoothie Mixes – Perfect for traveling & busy schedules!!
 So delicious & full of superfood nutrients!
Drink it hot or cold, the flavor is the same deliciousness!!  
 We add a scoop (tsp) to our Matcha Superfood Mix beverage :
 Contents: Matcha, Morninga, Wheat Grass, Barley Grass
Drinking this (or adding it to yogurt, etc) gives an awesome energy boost!
***BOTH Matcha Mixes can be found at TJ Maxx & Home Goods***
The Maca Team
Maca 
Tropical Traditions  
Coconut Oil & More
Your Super
Yummy raw snack bars
Nutritional mixes to add to smoothies & more
Young Living Essential Oils